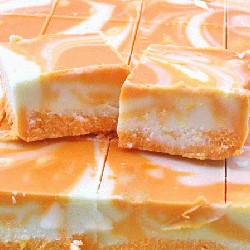 Last year, for neighbor and co-worker gifts, I made little boxes of fudge and truffles. I made chocolate fudge, butterscotch fudge, and peppermint fudge along with rich dark chocolate/cream cheese truffles. When I found this recipe for Orange Creamsicle fudge, I knew I had to try it! Everyone I shared it with raved about it. Super yummy!
ORANGE CREAMSICLE FUDGE
Ingredients:
3/4 C. butter
2 C. sugar
3/4 C. heavy cream
1 package (10-12 oz) white chocolate chips
1 jar (7 oz) marshmallow cream/fluff
1 T. orange extract
food coloring (5 drops red, 12 drops yellow) to make orange
Instructions:
1. Prepare a 9x13 pan by lining it with aluminum foil and spraying it with non-stick cooking spray.
2. In a large, heavy saucepan combine the sugar, cream, and butter over medium heat. Continually stir the mixture until the butter melts and the sugar is completely dissolved.
3. Bring the mixture to a boil and once it starts boiling, stir continuously for 4 minutes (set a timer).
4. Remove the pan from the heat and immediately stir in the white chocolate chips and the marshmallow fluff. Stir until smooth.
5. Working quickly, put about 1 C. of the mixture into a bowl and set aside. Add the orange extract and the food coloring to the saucepan, stirring until it is a smooth, even color.
6. Pour the orange fudge into the prepared pan and spread it into an even layer. Drop the white fudge over the orange fudge by the spoonful. Take a butter knife or toothpick and drag it through the fudge to create swirls.
7. Allow the fudge to set at room temperature for 2 hours or in the fridge for 1 hour. Store in an airtight container.
If you're curious how I made the other flavors of fudge, it's really quite simple. Start with your basic fudge recipe (this is the Jet-Puffed Marshmallow Creme Fantasy Fudge Recipe, my personal fave):
3 cups sugar
3/4 cup margarine
2/3 cup evaporated milk
1 12-oz. (340 g) package semi-sweet chocolate chips
1 7-oz. (198 g) jar Kraft Marshmallow creme
1 cup chopped nuts (optional - I usually leave them out)
1 teaspoon vanilla extract
Traditional method:
Combine sugar, margarine and milk in heavy 2-1/2 quart saucepan; bring to full rolling bail, stirring constantly. Continue boiling 5 minutes over medium heat, stirring. Remove from heat, stir in chocolate till melted. Add marshmallow creme, nuts (optional) and vanilla beat till blended. Pour into greased 13 x 9-inch baking pan. Let cool and cut into 1-inch squares.
- For butterscotch, I substituted the chocolate chips for butterscotch chips.
- For peppermint, I used regular semi-sweet chocolate chips but used peppermint extract instead of vanilla and sprinkled the top with crushed peppermint candies before the fudge set (pressing down slightly to get it to stick to the fudge).
- I also thought about making peanut butter fudge using peanut butter chips, but never got that far. I'm sure they'd be yummy too!
MERRY CHRISTMAS, Clever Homemaking friends!